Is your firm's name Lucky ?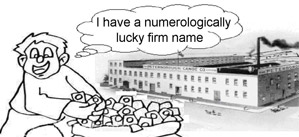 In Kanpur, there is a famous shop " Bhikharam Sweets ", now here the name does not matter.
What matters is the numerological vibration; I have found that its numerological vibration is excellent.In Kanpur, there is one more famous shop "Thaggu Ke Laddoo". Before my respected readers start thinking of numerous causes that are responsible for the success of these firms, I would like to give a small example.
In Govind nagar (kanpur) there is a famous "Jai Sweet House" and adjascent to it is a shop "shree nath ji sweet house" . Both make good quality sweets , but every time I visit there I find the first one with over-rush as if there is a free sale and the second one has no or very few customers.
I would like to ask my readers a question : Why is the second shop not earning despite its location and quality. May be some of you will think it is the shopkeeper's attitude of handling with customers, but I assure you that both are extremely polite. The difference is in the destiny of the firms and that of the owners.
Why is holy shree nath ji maharaj not helping him to earn profits? With full respect to all gods and goddesses I repeat: no god or goddess will come
to run a firm in profits if their name is added in the firm's name.
I know some readers might be thinking of the prosperous and successful "Balaji Telefilms" of Ekta Kapoor , but please let me remind you that there is also a firm named "Balaji Films" which has not yet given a hit film and this is also owned by Ekta Kapoor.
For a firm name / brand name / film name shop name one must get it numerologically checked and if a correction is recommended then it must be made. On May3, 2004 I had predicted on a famous astrological website that the 'K magic' will not work in Krishna Cottage. It must not be interpreted that a particular alphabet is extremely lucky, so every name must be started with that. Had it been so then every serial of Ekta Kapoor would have been a hit, even Kahaani Terrii Merrii.
In the end the maximum I can say is that no leading brand or firm in the world has a deity's name attached to it. Still, if one has a deep faith in particular goddess or god I do not neglect that but only request to get a numerological analysis done.
Is you firm's name lucky ?

Is your firm Earning consistently ? Are your bad debts recovering ?

Is your firm's colour scheme Lucky ? Is your Firm profitable every year ?
To get personalized predictions about your Firm' name spelling and the firm's prospects
Order our exclusive "Is your Firm's name Lucky ?" report