Jupiter Transit on 19th June 2014 : Effect of Jupiter Transit in Cancer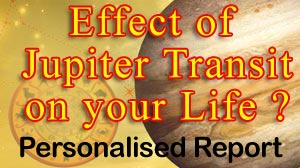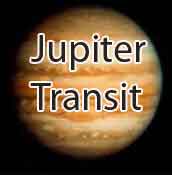 Jupiter or Brihaspati or Guru is the planet of knowledge, might and authority. Jupiter is also referred to as Dev-guru in the Hindu Mythology. Jupiter is the karaka of 1st, 5th, 9th and 10th house in the Birth Chart of the Kaal Purusha. The placement of Jupiter in a birth chart largely decides how easily one will get out of difficult situations in our life. Jupiter stays in a sign for a period of about thirteen months.
On 19th June, Jupiter enters Cancer, its sign of exaltation after nearly 12 years ! Hence, Jupiterís transit through Cancer will be of utmost significance in each and every personís life as Jupiter is believed to govern all the four aspects of life Ė Dharma, Artha, Kaama & Moksha.
For ease of understanding, We have rated the transit effect from one to five stars. One star being the worst and Five stars being the best effect of Jupiter Transit in Aries.
Following are the effects of the Jupiter transit Ė Guru Peyarchi Ė based on the position of Moon in your Birth Chart.

Effect of Jupiter Transit on your Moon Sign
Effect of Jupiter Transit for Aries (Mesha) Moon-sign :


Jupiterís transit in the fourth house in the moon chart may give troubles and sorrows through relatives. High expenditure for domestic necessities will continue to drain your savings. Speculation may bring loss. Business profits will be drastically reduced. Misunderstanding may develop with your spouse or business partner. Attempts for higher education and specialized studies may meet impediments. The period is not favorable for long journey in general and overseas travel in particular. Take special care of excessive expenditure and any health related problems regarding your children.

Effect of Jupiter Transit for Taurus (Vrisha) Moon-sign :

Jupiter transit in the third house in the moon chart indicates problems with family and physical weakness. Period is adverse for service holders as relations with are not likely to be cordial. Service holders of Govt. departments should be extra careful. Delays in court cases or losses in litigation may bring unhappiness. Time is not good for bachelors to tie the nuptial knot. Jupiter Transit in cancer indicates that a lot of emphasis will be there on relationships or partnerships. This transit is not very favorable for parents. Apathy towards spiritual pursuits could be there. Property or vehicle could give some trouble.

Effect of Jupiter Transit for Gemini (Mithun) Moon-sign :





Jupiterís transit in the second house in the moon chart indicates gain in movable or immovable assets, addition in the family if married and marriage for the singles. Overall gain in wealth and opening of more avenues of income are possible. Long distance travels or foreign trips related to education are likely. You must take fullest advantage of this positive period. Increase in earned income and improvement in service conditions or in the routine lifestyle are on the cards. Significant professional success will be there. Family members and family wealth may increase.

Effect of Jupiter Transit for Cancer (Kataka) Moon-sign :



Jupiterís transit in Cancer indicates beneficial effects in the areas of self-development, health, career advancement and long tour and travel. Issues related to the self will gain importance. Children will excel. Investments will bring good returns. Spiritual pursuits and guidance will be there. Long, profitable journeys could be undertaken. Spouse or partnerships could bring some trouble. Students planning for higher studies will be successful. Expenses will overtake income. You are likely to face shortage of money. Those who are looking for a placement will get better chances. Mental peace will be disturbed significantly. Emotional disturbances are likely on the personal front. However, chronic patients will recover from ailments. Problems connected with liver, kidney and intestines are likely to spur.

Effect of Jupiter Transit for Leo (Singha) Moon-sign :

Jupiter is currently transiting twelfth house in your moon-chart. It is not a favorable transit. Be prepared for unexpected and unwanted expenses. New Job opportunities will be difficult to reach. Those who are in love might suffer disappointments. Chronic patients are not likely to get much relief. Separations in family will create mental distress and unwanted transfers might upset your family. Travel for pleasure should be avoided. Only necessary tour should be taken up that too with proper planning. Health remains weak, major health issues might crop up. Trusted and loyal friends will behave differently during this period. Expenditure will go beyond control. Beware of enemies, litigation, loans and take very special care of your own health.

Effect of Jupiter Transit for Virgo (Kanya) Moon-sign :




Jupiter is currently transiting eleventh house in your moon-chart. A significant growth in friends circle, fulfillment of desires and an overall increase in accumulated wealth is foreseen. Short, profitable journeys will be there in multiple numbers. Favorable partnerships may be formed. Children might bring some dissatisfaction. Affairs of the heart could receive a major setback. Also, students aspiring for higher studies need to put in more effort. Financially you will be well-off. Unemployed ones are likely to get a good job. For employed natives, promotion and favourable transfers are foreseen. Married couples will enjoy conjugal bliss of highest order. This Jupiter transit is an extremely favourable one for those interested in foreign collaborations and assignments either for business or for studies.

Effect of Jupiter Transit for Libra (Tula) Moon-sign :




Jupiter is transiting over tenth house in your moon-chart. Increase of social status and income will be there for sure. Excellent service conditions and helping hands could come your way. Home life may not be very peaceful. Take special care of the same. There may be some dissatisfaction related to mother and other material comforts. Friends or elder siblings may cause serious worries. Students need to be more focused. This transit of Jupiter indicates property or inheritance related disputes, an unexpected change of profession, problems related to children. You are also warned of baseless allegations. Increased expenditure and reduced money inflow will upset your plans. Transfers against your wish or changes in your position might adversely affect your Career. Businessmen will have to take extra care to avoid losses. Speculation of any kind is not advisable. Unmarried people are advised to wait for their wedding. Health problems related to cardiac and stomach might bother you.

Effect of Jupiter Transit for Scorpio (Vrishchika) Moon-sign :



Jupiter is currently transiting the ninth house in your moon chart. This transit will bestow wealth, gains and prosperity. Your savings will increase. Long pending dues will be recovered. For businessmen, Jupiter will prove beneficial for gains as well as expansion. Speculative activities will yield satisfactory results. For newly wed, Birth of a child will bring joy. Wedding bells will ring for the unmarried people. You will maintain normal health. Student will excel in studies. Long journeys and spiritual pursuits may be undertaken. This is the time to get rewards for your past life Karma. Neighbors, younger siblings and profession could ruffle you a bit.

Effect of Jupiter Transit for Sagittarius (Dhanu) Moon-sign :


Jupiterís transit to the unfavorable eighth house in the moon chart indicates obstacles and times of stress. There will be many problems in financial matters. Employed natives may have to shoulder additional responsibilities for which they will not be rewarded at present. Promotions and transfers may get delayed or will be to undesirable places. Emotional problems might merge. As regards health general weakness is indicated. Time is not quite conducive either for long or overseas travel. You may also develop interest in occultism. However be careful while driving and do not neglect your health.

Effect of Jupiter Transit for Capricorn (Makar) Moon-sign :

Jupiterís transit in the 7th house in the moon chart may spoil the health of your spouse and give rise to unexpected medical expenses. It will be a mixed period. Tension, stress, litigation might disturb you on the one hand while on the other hand you may feel financial crisis amidst abundance. Business will run well with minor problems. Speculation will yield average returns. You will maintain normal health, except occasional minor complaints related to blood, liver, kidney and urinary tract. Aspirations for higher education or professional courses will be successful.

Effect of Jupiter Transit for Aquarius (Kumbh) Moon-sign :

Jupiterís transit in the non-favorable sixth house in the moon chart may bring ill health, debts, quarrel, litigation and failures. You will face occasional financial crunch and might have to even go in for loans. Expenses will increase unexpectedly. Colleaguesí cooperation will be minimal. Promotions will be delayed. Businessmen will face stiff competition. Misunderstanding with your life partner and his / her ill health may cause worry. Bachelors will find difficult to get partners of their choice. Health problems may crop up. Lack of interest and indolence will hinder progress in studies. Work hard to avoid failure is the advise.

Effect of Jupiter Transit for Pisces (Meena) Moon-sign :




Jupiterís transit in the fifth house in the moon chart will bestow success and financial abundance. Financially you will be very sound with an increase in income and speculative gains. Patients suffering from chronic diseases will have speedy recovery. Success is ensured for those appearing for competitive examinations. All creative activities will flourish. Watch out for aggressive enemies or stomach related health problems. Weight gain is a definite possibility.