Link Exchange Submission - Link Directory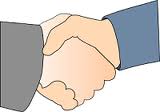 If you have a web site that is focused on Astrology, Numerology, Vastu, Tarot, Graphology, Spirituality or related topics, we would like to exchange links with you. Please do not submit sites which are not connected with these topics.
To submit your website with Astrojyotishi.Com, please fill in these fields and put our following link on your webpage:
Title : Astrojyotishi | Free Numerology | Free Astrology | Lucky Name Analysis | Sadhe Sati & Kal Sarp Dosha Remedies | Free Predictions |
URL : http://www.astrojyotishi.com
Description : Astrojyotishi offers complete guidance in Numerology, Astrology, Vastu, Palmistry and sells genuine Yantras, Rudraksha, Pooja Products & Gemstones.
Make sure that the page on which you show our link is directly linked from the homepage as well.