Why did "Zindaggi Rocks" NOT really rock ?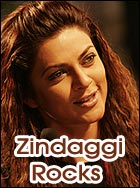 Zindaggi Rocks, the movie starring Sushmita Sen was released on 6th October 2006.
Pt. Aaadietya Pandey predicted on 6th September 2006 that it will be a FLOP movie despite of a very efficient star cast and good story.
" Zindaggi Rocks is ruled by number 6 and 8 as per Numerology. Number 6 is ruled by Venus and symbolises the celluloid world and entertainment industry and number 8 is ruled by Saturn and symbolises the material aspect of life.
Anurradha Prasad, the Producer is governed by number 1 and B.A.G. Films is ruled by number 7. As a result, the name Zindaggi Rocks is NOT Compatible with the destiny numbers of its producer and its production firm.
Thus i conclude the following :
* The Movie will be a flop. If at all it earns then it too it will be a below average film.
* The movie will help its Music director Aanuu Mallik regain some recognition and Sushmita Sen will also get good return from it.
* But i don't see the Producers getting any significant gains.
Still i wish a good success for the movie.
I would request you to please forward this email to the concerned persons so that after my prediction turns true you can realise the powers of numerological name correction.
Name correction can make a film superhit then it can also make it a big Flop. In this case, the name spelling has unnecessarily impeded the growth prospects of the movie. "
with best wishes,
Dr. (Pt.) Aaadietya Pandey