Dream Analysis & Dream Dictionary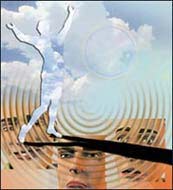 Dictionary of Dreams
To know the interpretation of your dreams, click on the alphabets.
| A | B | C | D | E | F | G | H | I | J | K | L | M | N | O | P | Q | R | S
| T | U | V | W | X | Y | Z |
To interpret dreams, you need to determine what type of dream you are dealing with. There are two categories that they fit into, those that are generated from within your physical body and mind and those that come from your spirit guides or tutors. They have different purposes and its necessary to recognize what these differences mean to you and how they interact in your waking and dreaming state.
The dreams that originate with the physical body are for your functioning and survival in the world of physical nature. They deal with your physical and psychological well being. These dreams are like your manager and janitor who try to keep body and mind tidy for your general well being.
Then, there are those dreams that have a mystical and special characteristic to them which are for your spiritual development and progress. They produce instant knowledge and information that is beyond your ability to garner through intellectual or logical means.
Why you get information when you sleep.
When you are asleep, so is the physical component of your self. The five senses, smelling, tasting, feeling, seeing, and hearing, and your ego, the controlling master, are all temporarily suspended from activity. Sleeping allows the other sense that you have, the sixth sense, to take over for awhile with out much interference. This is when both the physical body and your spiritual essence can perform maintenance simultaneously to help unwrinkle parts of your life. Its ironic that this is the state of being that psychics and mediums practice for years to achieve, and everyone enters it every time they fall asleep.
Dreams reveal a lot about our present past and future events.
Get your Dream(s) analysed by us and know what secrets are hidden in your dreams.
Does something haunt you in dreams ? Consult us and we will help you find the answer to the puzzle in it.
Buy our service "Ask a Question"