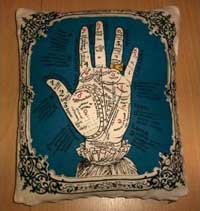 Index Finger :-
Good signs:
A cross tells of better prospects to come. A grille denotes advancement in life. A circle tells of a love that is more idealistic than sensual. A star on this finger is a sure sign of success in life.

Bad signs:
A square on this finger warns of jealousy that is likely to cause a lot of trouble. A triangle indicates troubles to come.


Middle Finger :-
Good signs:
Good signs : A black spot on this finger is a good sign though it may bring responsibilities and even sorrow. Happiness in home and family life is indicated by a triangle on this finger. A square forecasts material gains and perhaps an inheritance.

Bad signs:
A star forecasts domestic disturbances. A cross indicated gossip, slander and blacklisting. A grille indicates danger of large, open places.

Ring Finger :-
Good signs:
Good signs : A grille here indicates journey and a circle indicates successful career and even wealth, a square indicates a successful career, public recognition and honours.

Bad signs:
A cross on this finger indicates unhappiness in affairs of the heart. A triangle is also a negative sign in love affairs.


Little Finger :-
Good signs:
Good signs : A circle over here indicates fulfillment of ambitions. A star indicates more than 1 marriage or love affairs. A square denotes happiness but only after hard work and many disappointments. A cross tells of honours to come. They might be quite unexpected.


Bad signs:
A black dot here tells of upsets and disappointments. Triangle denotes danger from strangers. A grille indicates an accident or an unpleasant incident.

<![if !supportLineBreakNewLine]><![endif]>
Thumb :-

Good signs :
There are no particular signs which if present on the thumb indicate the good things of life.


Bad signs:
A circle on the thumb denotes business failures and financial troubles. A Star speaks of family troubles and discord. A cross denotes marital unhappiness, perhaps a separation, divorce or broken engagement.
<![if !supportLineBreakNewLine]>
<![endif]>