Articles Archives | Write-ups Archives | Astrology & Numerology Articles |


Shani Amawasya - 30th July 2011 : Muhurta for Pitra Dosh & Shani Puja
Worshipping Lord Shani and offering him naivedya on Shani Amawasya can reduce the evil effects of Saturn on their lives. Shani amawasya is also known as Shani Amavas.

The full moon day in the Hindu month of Ashad is celebrated as the auspicious day of Guru Purnima. The day is celebrated by worshipping Guru, the spiritual master, who teaches us the righteous path to divinity. Poojas are performed in prostration to him. Guru Purnima is one of the few most auspicious days in ayear when the poojan and remedies to make jupiter.


Supermoon on 19th March, 2011 | Beware of Disasters !
Supermoon on 19th March indicates catastrophic storms, earthquakes, hyper seismic & volcanic activity, and other natural disasters are likely to occur.


Jupiter Transit : Effect of Jupiter Transit
The placement of Jupiter in a birth chart largely decides how easily one will get out of difficult situations in our life. Jupitered entered Leo in July 2015.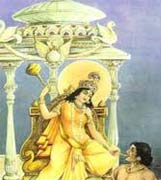 Baglamukhi Jayanti - 11th May 201 - Protection from Enemies
Goddess Bagalamukhi is one of the ten mahavidyas (great wisdom goddesses) in Hinduism. Bagalamukhi Devi smashes the devotee's enemies. She is also worshipped as Goddess Pitambara as she is believed to be adorned in yellow dress, flowers and gold ornaments. She protects the devotees from enemies and evils.


Nag Panchami - Kaal Sarp Dosh Puja
The fifth day of the shukla paksha of the Saavan month is celebrated as Naag Panchami. This day snakes are worshipped in the form of god. Devotees offer food / milk to the snakes. This day is of special significance for getting rid of the dreaded "Kaal Sarp Dosh" in the birth chart of a native.


Karva Chauth is of particular importance to Hindu women as they believe it ensures the well-being, prosperity and longevity of their husbands. Know the legend, rituals and the muhurta for Karwa Chowth.




Venus meets Moon & Saturn - Good for Ladies !
On 18 June 2007 people witnessed the closeness of Venus, Moon & Saturn. Let us see what is the significance of the meeting of these three planets in Numerology & Western Astrology?

Why did "Zindaggi Rocks" NOT really rock ?
" Zindaggi Rocks is ruled by number 6 and 8 as per Numerology. Number 6 is ruled by Venus and symbolises the celluloid world and entertainment industry and number 8 is ruled by Saturn and symbolises the material aspect of life.

Anurradha Prasad, the Producer is governed by number 1 and B.A.G. Films is ruled by number 7. As a result, the name Zindaggi Rocks is NOT Compatible with the destiny numbers of its producer and its production firm.


Aishwarya & Abhishek : made for each other ?
Are Aishwarya & Abhishek compatible? What numbers predict about their mariage ? When will they be married ?


Positive effects of Solar Eclipse
Solar Eclipse can have positive effects too. What is Solar eclipse ? What is its effect on the 12 sun-signs? Two Eclipses a month in August 2008 !