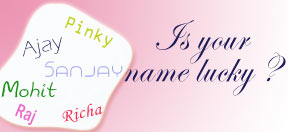 If that number is in harmony with the number generated by calculating the Numerological vibration of your name spelling, you will succeed in life. Your actions will not be misdirected towards the wrong way and you will get the right guidance at the right time.
When I was analysing the name of SAB TV serial ' carry on shekhar', I took into mind that the numerological vibration (Future Number) of the serial must be in perfect compatibility with the destiny numbers of Sab TV, the Producer of theSerial, and the Anchor.
Ultimately I concluded that one 'y' must be added to the word 'carry'. So, the name was corrected as 'Carryy On Shekhar' and I do not think it is necessary to tell what was the result, of the name correction (as the TRP of the serial is sufficient to tell that).
Now i have corrected Shekhar Suman's music album's name Kuch Khwab Aise to Kucch Khwaab Aise.
When i corrected the name of Kumar Gawrav (the hero of the movie LOVE Story) he gave me a call in a fortnight telling me that he got two offers from hollywood . I coined the new spelling as KUMARR GAWRAW.
Later on he also informed that the two movies did wonderfully well.
As always,i did not feel much surprised to see the miraculous effect of a numerological name correction because day in and day out i get numerous calls telling me the miracles they saw after getting their name corrected. All i do is : thank the almighty for blessing me with a science that helps me in showing the right path to people and guiding them.
Another query which is generally put forward is: How can Name Correction help me when I have another spelling in my Certificates? My answer is: Your destiny is governed mostly by the name that you use, if you use your certificate name only for official purpose (there too I recommend the letters to be written in signature) and elsewhere you use the name given by a Numerologist, you will be safeguarded from any negative effect of your name.
If I give you a mantra today and you never practice it in your life, will it bring any effect in
your life? And if I give you another mantra which you practice daily, will it not bring some or the other effect?
Is ur name lucky ?
To have personalised predictions about your name spelling please click below