Are Aishwarya & Viveik made for each other ?
INKA NUMBER KAB :- The Times of India (10/10/2004)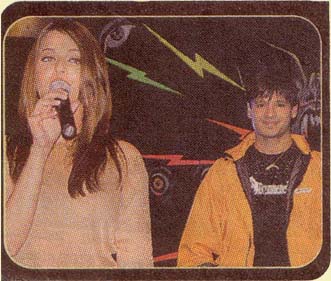 Is love blossoming between the hot-celeb pair or is it all smoke and no fire? Kanpur Times turns to numerology to find out what's on the cards for the hit Aish-Vivek jodi, which was in town recently…
Numerology :
According to the numerological analysis Vivek Oberoi (born on 03/09/1976) is governed by number 3 and 8. Aishwarya Rai is governed by number 1 and 5.
Numerologist Pt.Vvidhushekhor Pandey says, "Number 1 and 3 are perfectly compatible. The compatibility of their soul numbers is very good, around 80%. So, the understanding between them is perfect, they have similar viewpoints, likes and dislikes."
According to numerology there may be problems when it comes to marriage. " Their compatibility doesn't appear to be long lasting. The destiny number of Vivek is 8, whereas that of Aishwarya is 5. these numbers are not compatible with each other. Number 5 agrees well with number 8, but when it comes to performing duties, they both lack in harmony, " explains Pandey.
A spelling correction in Vivek's name is what, Pandey suggests, can really help his career and relationship with Aishwarya. Pandey, however, reiterates that the two are not compatible when it comes to marriage.
Pt. Aaadietya Pandey, another numerologist says, " If at all marriage happens, it will only be after Oct 2006. But I do not see the relationship between Aishwarya & Vivek ending in wedlock.
They will surely remain good friends. But if they still decide to tie the knot, they will not have a successful marriage."