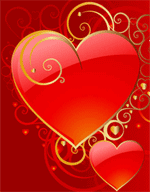 What is your Kissing Style ?
Birth Date reveals your Love Quotient
Personalized Love Life Analysis & Compatibility Report
Are you lucky in love?
Does he/she love you?
When will you get married?
Are you sexually compatible?
Are you destined for a marital bliss?
When will you meet your soul mate?
Will the present relationship last long ?
The magic mantra to make him/her fall in love.
The answer to all these Questions are in our "Love & Marriage Report"
Our Special "Love & Marriage Report" helps you understand your heart, your love and your partner. You can also find details about your love life based on your Birth Chart & Numbers of self and your partner.

We offer complete solutions to love life problems of those looking for a partner, those already in love and those willing to reunite.

Indian Astrology has a highly sophisticated system that analyzes the matching based on various criteria like thinking, traits, and sexual compatibility. The Love & Marriage Report, gives a detailed description of - Mental (thinking & intellectual) compatibility; Physical compatibility; Wealth & luck generated due to the match; Longevity of attraction between the couple; Longevity of life of each spouse; Growth of family/ Children etc.